Rosemary is currently 12 months and 3 weeks old.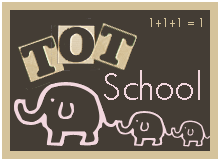 This week we focused on opposites while we played. Though there were plenty of other fun learning experiences through the week!!
We spent lots of time in the bath tub since Rosemary had a cold and enjoyed her bubble bath with Johnson's Medicated Baby Bath. During bath time we played with the Big Yellow Duck and the Little Yellow Duck and also with the Big Green Frog and the Little Green Frog. Rosemary played and I just repeated big and little. She has also learned how to fill the bath toys with water and squirt the water back out! Loads of fun with that one! Sorry there are no pics of bath time!
Another game I do not have pictures of is Hide and Seek. Rosemary has just started walking this week and she loves to use her new skills to find Mommy. I hide behind a chair or the dining room table and she walks around to find me. Great workout for both of us and she gets a huge kick out of it.
We also finished killing off her birthday balloon. When she was holding the balloon it was Down and when she let go it went Up! She enjoyed that game for half an hour.
Rosemary has also really learned to love coloring! Here she is demonstrating Brown. Coincidence of course, but I went with it! Here Brown Kitty, have a Brown crayon! LOL!
I love coloring!!
Finally we talked about Yucky! Here is Rosemary demonstrating a yucky crayon. Into the mouth it goes and she says, "yccchh"
Right now Tot School is pretty laid back. I just make use of the teachable moments that come up throughout the day. We have a great time! Next week it is body parts. We are going to talk about feet, hands, tummy and head!